A child called "it" : one child's courage to survive
Book
1995
Item Details
Subjects:
ISBN:
9781558743663
9780613171373 (pbk.) (Heath Communications)
1558743669
Publisher, Date: Deerfield Beach, Fla. : Health Communications, c1995.
Description: xi, 184 p. ; 19 cm.
LCCN: 95020792
Link to PAC
Other Items In This Series
Tells the story of a child's abuse at the hands of his alcoholic mother.
The author continues the story of his own child abuse, and his experiences being a foster child m…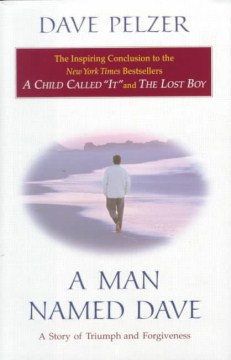 The journey of Dave Pelzer is completed as he confronts his abusive parents and seeks to create a…
Reader Reviews
★★★★★ A child called "It": one child's courage to surviv
By Patron89982 on Tue, 29 Aug 2017 11:25:04
This true story is written by a child abuse survivor. The physical and mental abuse he endured was extremely atrocious, and at the hand of his mentally unstable, alcoholic mother, while his father did very little to help him, while his brothers stood by watching and sometimes participating in the abuse when their mother prompted them. It is a very sad story. However, he survived and was rescued. The two books he wrote that follow show how well he recovered and how he went on to have a very productive and happy life, and helped other abuse victims. Highly recommended.
★★★★★
By s2james on Tue, 08 Sep 2015 13:56:01
This book makes you reflect on the things one takes for granted in life. Tears, anger, sadness, were a few emotions that surfaced throughout reading the book. The fact that is is based on a true story makes it more empowering. Must read!!
★★☆☆☆
By ss1989 on Sat, 06 Jun 2015 12:57:59
Reading this book bought back a lot of bad memories as a survivor of child abuse myself. Familiar with violent and abusive parents the mother's actions were shocking enough however early on I could not believe the father who did not perpetuate but actively witnessed the abuse could allow such things to happen to their own child. Then drawing parallels to my own history of abuse I understood that it is not so uncommon for one parent to be the abuser and the other silent parent the enabler.
★★★☆☆ Important subject but a boring read.
By FrenchTeacher91 on Wed, 21 Dec 2016 20:31:27
This is an important book to read especially to those in positions of authority with children such as Child Care workers and teachers. The message is strong and the story is heartbreaking. I have read many such stories and although I was left feeling that this story needs to be shared, the writing is not very good. The author is the boy in question and could have used some help writing.
★★★★☆ This was a great book and heart touching!
By LaNena on Tue, 25 Aug 2015 11:54:53
This book is about a boy named David that suffered abuse, neglect, starvation, from his alcoholic mother. Despite of having more brothers he was the only one that suffered. His teacher, nurse and principal as well as police were brave to save this child from the pain and suffering from his mother. David's courage was enormous and led him to be set free.
★★★★☆
By Patron79234 on Sun, 13 Dec 2009 20:13:45
Gosh! this Book is soooo sad and i sympathize for david.
★★★★☆ A Child Called
By Lili B on Wed, 27 May 2015 10:41:43
A Child Called "It" is a heart wrenching story of severe child abuse. It is a very moving story that will bring you to tears. Dave Pelzer's determination, his will to survive, and desire to be loved inspired me greatly. No matter how hard certain situations are, even if you have hit rock bottom, you will see the light at the end of the tunnel, if you believe in yourself and are determined to never give up and to keep fighting. I give this book a four and a half out of five stars.
★★★★★ A child called it
By sean kane 2021 on Mon, 05 Jan 2015 11:02:49
The book, A Child Called It, is about a kid that gets abused by his mother. This book takes place in California. I would definitely recommend this book because I don't really read books and when I was reading this book I couldn't put the book down.
★★★★☆ A Child Callled It
By daymeon21 on Tue, 02 Dec 2014 11:18:56
A Child Called It is one of the best books you will ever read. It is a fantastic book. I will tell you a sneak peak of it. First, he has freedom. Then he ends up getting beaten. You will have to find out the rest. I'm telling you it is a good book!
★★☆☆☆ sad but good
By Westerville46101 on Sun, 03 Dec 2006 08:27:13
hey reader this book is really good i think you guys & girls should read it
Professional Reviews
There are no professional revews for this title.
Additional Information
There is no additional information for this title.